If you've got company coming over for the Holidays, or if you are the company, here's your chance to impress your guests or hosts with a deliciously nourishing breakfast (or two). And the best part? It cooks itself while you sleep.
Of course, you could slave over cinnamon rolls and please everyone.
But, if you're following my recommendations for a Fit, Lean & Strong Holiday Season, and want to keep the splurges to just a couple here and there, this overnight slow cooker oatmeal recipe fits the bill while saving your splurge.
Here's the what, how, and why of overnight oats. And, how they fit into a mostly low-grain lifestyle.
Recipe of the week: Overnight Slow Cooker High-Protein Oatmeal
Grain Mix Ingredients:
1 cup steel-cut oats (gluten-free if desired)
2 large apples, cored and chopped
1. 5 cups unsweetened non-dairy milk
3 cups water
2 teaspoons cinnamon
0.25 tsp salt
2 Tbsp coconut oil
1 tsp vanilla extract
4 Tbsp hemp seeds (or if you don't have these, omit, and add 1 more Tbsp oats)
4 Tbsp chia seeds
2 Tbsp real maple syrup or organic or local honey
Instructions:
VERY IMPORTANT: Grease your slow cooker with coconut oil, butter, or an oil spray. Don't skip this step or your oatmeal will stick and burn to the sides.
Place all ingredients in your slow cooker, cover, and cook on low 7-8 hours.
Once cooked, stir well and serve. Add more milk, pecans, maple, honey, apples, etc. if desired (but delish as is).  You can also serve alongside Greek yogurt to boost protein or use as a recovery, see below.
Can be stored in refrigerator 3-4 days, simply reheat in microwave or stovetop.
Serves 4-6.
Adding Extra Protein & Training Fuel Adjustments:
Since I like a breakfast even slightly higher in proteins and fats, I add extra protein and healthy fats by pairing 1/2 cup oatmeal with 1/2 cup greek yogurt and optionally pecans (yum!).
If you're looking for a great pre-training fuel, you can eat this oatmeal as is, but make sure to give it 2-3 hours to digest before a big ride.  If eating it as a delicious recovery, again add extra protein with organic milk or Greek yogurt, organic soy, or eggs on the side.
Other Powerful Favorites:
Comments:
This time of year, you may wake up needing to feed a crowd. Never fear…this high-protein slow cooker oat recipe will cook itself while  you sleep. And, if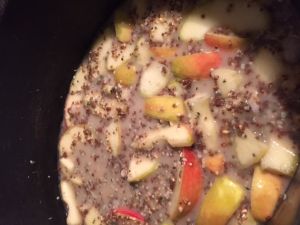 you're wondering about the nourishing goodness inside your slow cooker, here are the reasons I include oats in a moderately low-grain diet and my thoughts on the varying grains at the bottom of the ol' pyramid.
Oats are a specifically wholesome grain, set a part from many other modern ones. If you didn't already notice, grains are somewhat controversial these days.  Really.  There are entire books on the subject, like Wheat Belly and Grain Brain.
And really, I think it's great.  While I don't agree that everyone should be completely grain-free, I think it's good that we're questioning whether or not they should be the "base" of the food guide pyramid, and make up the majority of our intake.  Here's a hint: they should not.
Why? Simply, they are a high carbohydrate food that doesn't stack up nutritionally to many other foods,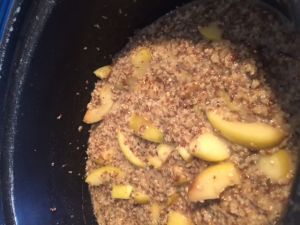 such as almonds or broccoli or beans. They simply don't. They have a place. They are an inexpensive food source, and some of them are nourishing.  Many of them are not.
Within grains, there is a significant difference between refined grains, whole grains, and intact grains.  And, within "carbohydrate foods" that give us similar amounts of calories of carbs, there are vast differences in nutrients (compare yams vs. wheat for example).
What's more, over-eating "fast" or processed carbohydrates and refined grains is absolutely associated with inflammation, fat storage, and blood sugar imbalance.  This is especially true when the body is sedentary.
So, should we include grains?
As long as you tolerate them, I believe "intact" grains have a place in our everyday diets.  Intact grains are simply those you can see as a whole, intact grain. Wild or brown rice, oats, quinoa (sometimes considered a seed), sprouted grains, etc.  If you are at your goal weight, you can include carbohydrates and these grains as much as you'd like. If not, then moderation is important for everyday carbs while you're working towards it.
Oats specifically have a lot of good stuff for our bodies.  Stuff like:
beta-glucan, a unique and special fiber that reduces cholesterol levels, helps prevent heart disease, and significantly enhances the human immune system's response to bacterial infection. Beta-glucan not only helps neutrophils (the most abundant type of non-specific immune cell) navigate to the site of an infection more beta-glucan has beneficial effects in diabetes.
unique oat antioxidants, called avenanthramides, that help prevent free radicals from damaging LDL cholesterol, and therefore reduce risk of cardiovascular disease
fibers that provide significant cardiovascular and anti-breast cancer benefits for postmenopausal women
lignans that protect against heart disease. These lignans are converted by friendly bacteria in our intestines into mammalian lignans that is thought to protect against breast and other hormone-dependent cancers as well as heart disease.
Wondering what grains to include in your diet? Include oats. While I may still tell you that vegetables, and not grains should be the base of your diet, oats among other intact grains can certainly play a big role.  And, as you know, I'd never recommend pedaling a bike on green vegetables! Oats on the other hand, can be great fuel for training.
Be choosy when choosing grains.  Stay well, stay warm, and keep on pedaling, running, skiing, & climbing, with all your buddies well-fed, this week!
Fuel Your Adventure. Nourish Your Body.