WARM-YOU-UP POWERHOUSE SOUP
I'm freezing. Okay maybe not freezing, but with highs in the low teens most of this week, it's cold out there. And as I've discussed in the past, it takes a bit of work to keep the veggies piling during the cold weather months. Well, this week's recipe is warm, comforting, and has a whole host of awesome nutrients for your body.
In fact, you might be surprised at the 1-2-3 wellness punch you'll receive from the main ingredient:
Recipe of the week: Basil Cauliflower Soup
(adapted from the fabulous cookbook: "1000 Vegetarian Recipes" by Carol Gelles)
Ingredients:
1 Tbsp olive oil
1 Cup sliced onions
3 Cups vegetable or chicken broth
3 Cups cauliflower florets
½ Cup diced potatoes (peeled or unpeeled)
½ Cup packed fresh basil leaves
1 Cup buttermilk
¼ tsp salt, or to taste
Plain yogurt (optional)
Instructions: 
In a large pot, heat the oil over medium-high heat.  Add the onions and cook until softened, ~ 2 minutes.  Add the broth, cauliflower and potatoes; bring to a boil.  Reduce heat, cover, and simmer 30 minutes or until all vegetables are tender.  Remove from heat and stir in basil.
Place half of the soup in a blender or food processor and process until smooth.  Transfer to another bowl and repeat with remaining soup.
Return all soup to the pot, add buttermilk and salt.  Cook over low heat until heated through.
Serve with a dollop of plain yogurt (optional).
Comments:
I love skiing, in almost every way possible, throughout the winter. Getting out in the crisp cold air is invigorating and motivating. However, the risk of ending up with a cold or flu begins to increase – and nothing bums me out like being stuck home with a cold on a perfect pow day to get out.  Time to do something about it.
Like many of the fresh ingredients I highlight in recipes, this cauliflower soup can help you build up your defenses to prevent some illnesses.  In fact, cauliflower gives our bodies a 1-2-3 wellness punch!
Punch #1, Anti-inflammation: Who knew? Cauliflower provides both vitamin K and alpha-linoleic acid (the same omega-3 found in flaxseeds) to combat and prevent inflammation in our bodies.  What's more, one of its detox components, glucobrassicin, can be converted to another anti-inflammatory compound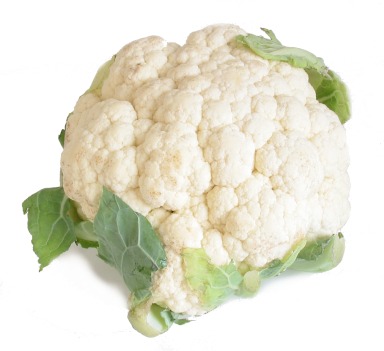 that works at a genetic level to promote a reduction in bodily inflammation!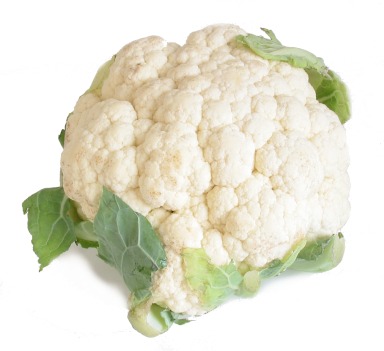 Punch #2, Antioxidants:  Next, to combat the free radicals that have build up in our bodies, cauliflower provides 2 excellent antioxidants, vitamin C and manganese.  Additionally, it contains many phytochemicals (remember, phytochemicals fight-o disease and damage) that work against oxidative stress, such as beta-carotene, beta-cryptoxanthin, caffeic acid, cinnamic acid, ferulic acid, quercetin, rutin, and kaempferol.
Punch #3, Increased Cellular Detoxification & Gastrointestinal Immune Support: Lastly, cauliflower's phytochemicals also include a group that works directly on cellular detoxification – both Phase 1 and Phase 2 cellular detox.   These phytochemicals belong to the glucosinolates group, and include glucobrassicin, glucoraphanin, and gluconasturtiian.  Add to it cauliflower's high content of fiber, which directly promotes gut health and therefore indirectly promotes improved immune function, and you've got yourself a serious health promoting vegetable.  If you want to include more detox vegetables along with your cauliflower, add Brussels sprouts, Savoy cabbage, Broccoli, and Kale.  All fine cool-weather foods.
Bonus Recipe: Cauliflower Mashed "Potatoes"
(from http://www.foodnetwork.com/recipes/george-stella/mock-garlic-mashed-potatoes-recipe/index.html)
Ingredients:
1 medium head cauliflower
1 tablespoon cream cheese, softened
1/4 cup grated Parmesan
1/2 teaspoon minced garlic
1/8 teaspoon straight chicken base or bullion (may substitute 1/2 teaspoon salt)
1/8 teaspoon freshly ground black pepper
1/2 teaspoon chopped fresh or dry chives, for garnish
3 tablespoons unsalted butter
Instructions:
Set a stockpot of water to boil over high heat.
Clean and cut cauliflower into small pieces. Cook in boiling water for about 6 minutes, or until well done. Drain well; do not let cool and pat cooked cauliflower very dry between several layers of paper towels.
In a bowl with an immersion blender, or in a food processor, puree the hot cauliflower with the cream cheese, Parmesan, garlic, chicken base, and pepper until almost smooth.
Garnish with chives, and serve hot with pats of butter.  Hint: Try roasting the garlic and adding a little fresh rosemary for a whole new taste.
It's not just colds we're preventing.  You can reduce your risk of cancer by including foods in your diet that are anti-inflammatory, antioxidants, and detoxing at a cellular level.  This week, stay healthy and ski, ride, run, & climb strong!
Fuel Your Adventure. Nourish Your Body.