TUESDAY'S HEALTHY FUEL RECIPE: KICKIN' HOMEMADE CHICKEN NOODLE SOUP
It's this week's Healthy Fuel Recipe: Best-Ever Spicy Chicken Noodle Soup (vegetarian options included).  An ultimate comfort food.  And unlike most other comfort foods, it's actually good for you.  It makes for a great dinner, leftover lunch, and perfect recovery after a lunch-time or early evening workout(combination of fluids, electrolytes, protein, carbs, and antioxidants).  As the temperatures are dropping outside, a warm bowl of super-nutrition recovery sounds just about right.
Recipe of the week: Best-Ever Spicy Chicken Soup
Ingredients:
2 tablespoons extra-virgin olive oil
1 medium onion, chopped
3 garlic cloves, minced
2 medium carrots, cut diagonally into 1/2-inch-thick slices
2 celery ribs, halved lengthwise, and cut into 1/2-inch-thick slices
4 fresh thyme sprigs
1 bay leaf
2 quarts chicken or vegetable stock (use boxed liquid or organic paste)
Small cubes of: 2-3 free-range chicken breasts of 4-6 free-range chicken thighs (boneless, skinless)

 

OR for a  vegetarian soup, use 16 oz. firm tofu or 2 cups garbanzo beans
8 ounces 100% whole-grain noodles*, edamame noodles, 1 cup cooked brown rice, or 1 cup quinoa (optional)
Kosher salt and freshly ground black pepper
1 handful fresh flat-leaf parsley, finely chopped
1 cup fresh deli salsa or salsa verde
½ cup Greek yogurt
½ tsp chipotle chili powder
1 Tbsp cumin
Place a soup pot over medium heat and coat with the oil. Add onion, garlic, carrots, celery, thyme and bay leaf. Cook and stir for about 8-106 minutes, until the vegetables are softened but not browned. Pour in the chicken stock and bring the liquid to a boil. Add diced chicken and noodles/rice; simmer for 5-8 minutes until chicken is cooked through.  Stir in parsley.  Add salt/pepper to taste.
*When I use noodles in meals, my favorite brand is Barilla PLUS (make sure it's PLUS). These noodles are made partly with garbanzo beans and have more than double the protein of most noodles.
Spicy Soup Option:  Prepare Chipotle Cumin "Cream" by mixing Greek yogurt, chili powder, and cumin.  Set aside.  When serving soup, place ¼ cup salsa in the bottom of your bowl.  Add soup.  Top with 2 Tbsp Chipotle Cumin Sour Cream and stir to mix.  Bring on the heat!
Comments:
Sure, you can find chicken noodle soup in a can, nuke it in the microwave, and sit down for dinner within 5 minutes.  But, as you look down at the bowl, you might notice that even the heartiest of canned soups looks a little watery.  The chicken pieces are the size of your pinky tip.  The vegetables hardly resemble vegetables.  And the sodium content may not even be from salt.
If there's one thing I want to inspire in you, it'sto skip the convenience foods when possible and eat more homemade fresh, real, whole foods.  Yes, for any purists out there I realize that some ingredients of this recipe still rely on boxed broth and prepared salsa.
I have time constraints and I assume you do as well.
So, in trying to be realistic with myself and with my recommendations to you, this is a compromise.  Even with these short cuts, you'll still reap the rewards of all the other whole foods you'll add.  Here's what's in the pot for you:
Garlic: Hugely anti-inflammatory, anti-bacterial and anti-viral, garlic can lower cholesterol, triglycerides, and plaques while combating oxidative stress with high amounts of antioxidants.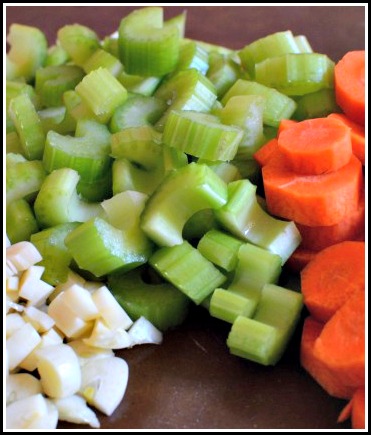 Onions: Onions are high in polyphenols and flavonoids, nutrients that are anti-inflammatory and antioxidant.  They promote heart health, bone and tissue health, healthy blood sugars and cancer protection.
Carrots: The poster-vegetable for carotenoids, carrots are antioxidant powerhouses that reduce risk and inhibit cancer cell growth (especially colon cancer) and preserve optical health.
Celery: Rich in the immune-enhancing Vitamin C, celery is highly antioxidant, reduces blood pressure and stress hormones, lessens water retention, and lowers cholesterol.
Parsley: Parsley is high in vitamins A, C, and K, which serve to fortify bone health, blood health, eye health, and more.  It also specifically inhibits tumor formation and cancer cell proliferation.
Chili: A real metabolism booster, chili contain capsaicins that are anti-bacterial and anti-carcinogenic. They increase calorie output, promote healthy blood sugars and decrease appetite.  They also lower blood cholesterol and triglycerides and sinus congestion.
Cumin: Cumin improves digestion, may reduce risk of cancers (stomach/lung), and is high in antioxidants to fight oxidative stress and damage to cells.
In every bowl! I can't promise all this goodness out of a can, and anyone who does hasn't seen a fresh pot of homemade soup in a while.  Your bowl will be bursting with antioxidants, proteins, phytochemicals and more.  Your cells and muscles will have the opportunity to recovery, repair and build when you give yourself good recovery, like the Best Every Spicy Chicken Soup after training and at the end of each day.  What's more, a little spice provides a new variation on this classic soup to keep your metabolism revving and your body extra warm this Winter.
Give your body what it needs for great energy and health every day and during training with the right Foods, Drinks and Supplements.  If you would like my help with it, I offer comprehensive plans as Instant Downloads and as Custom Clients starting at just $20.  And, as a FuelRightBlog reader, get a further discount with coupon code:  password-frblog  username-reader.  I'd love to work with you!
Fuel Your Adventure. Nourish Your Body.