Home Page › light at night › Tuesday's Healthy Fuel Recipe: Quick Nourishing Balsamic Vinegar Pan Sauce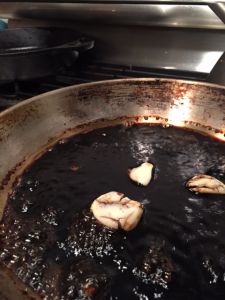 When it comes to vinegar, I typically post about all the benefits of raw Apple Cider Vinegar But this week, we're using my other favorite: Delicious Balsamic! It's still vinegar, but used in a whole different way. There are many health benefits to this one, and our 3-ingredient recipe is full of nourishing goodness.
It's goes well with "light at night' eating; just cook, bake, roast, grill (etc.) or Instant Pot(click for more info) pressure cook a protein source, prepare vegetables (raw in a salad, sauteed, grilled, or even pureed in a delicious soup like our broccoli pepper soup), and add a delicious, healthful, sauce and healthy fats. Easy as 1-2-3, and this week, you've got a great option for a fast dinner!
Recipe of the Week: Easy Balsamic Garlic Reduction Sauce
Ingredients:
6 oz. balsamic vinegar
6 garlic cloves, crushed and peeled
2 Tbsp lemon juice
Instructions:
Place all ingredients in a skillet and cook on medium high until reduced by half.
Then, pour over meat, beans, organic tofu, etc, or add the protein to the pan and saute. Add salt and pepper, if desired, to taste.
And, don't be afraid to eat the whole garlic cloves, they are sweet & delicious.
Instant Pot or Electric Pressure Cookers: Simply cook chicken or other meat in 1/2 cup liquid. Drain Liquid and add sauce to Instant Pot. Place on "saute" for a few minutes and serve.
Comments: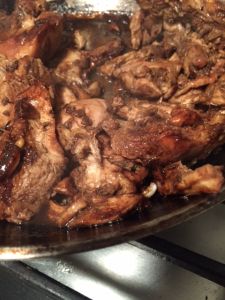 Does it get any easier than a 3-ingredient sauce for a 3-step, 20-minute dinner?  That was actually a rhetorical question, and the  answer in the real-food, healthy-eating, home-cooked world is: no, it does not. And not only is it easy, it's nourishing beyond the calories, carbs, proteins, fats (which most real, whole-foods are). Here's what a little balsamic can do for you:
Add powerful antioxidants and polyphenols to your body which can combat oxidative stress, cellular damage, and more.
Improve the activity of pepsin in the stomach, thereby improving digestion and metabolism.
Improve insulin sensitivity and gastric emptying which promotes better, more stable blood sugars with less swings.
And what's with "light at night?"
Night after night, this is what I recommend my endurance athlete clients (and, really, most everybody) eat for dinner:
Protein: Even after consuming a recovery snack after any intense training during the day, protein at dinner can further decrease any muscle wasting, encourage muscle repair and rebuilding, and reduc spikes in blood sugar/insulin through the night.  During the night, your body is not made to deal with sugar.  Part of its natural rhythms tell it it shouldn't have to.  You'll sleep better and feel better without the sugar (carbs) at dinner. Top protein (and vegetables) with a delicious, healthy sauce to keep it interesting.
Vegetables: The vegetables are a great source of antioxidants that supports cellular repair and decrease the oxidative stress that's often high from training.  What's more any garlic, onions, ginger, and spices you use to add flavor will add to the this antioxidant, anti-inflammation goodness.
Healthy Fats (organic coconut oils, avocados, unheated olive oil, etc): A healthy fat source promotes health with good hormone balance and moderated blood sugars.  They are also anti-inflammatory and provide satisfaction and flavor within a "carb-light" meal.
Bonus Balsamic Recipe: 
Mix 1 pint hulled and quartered strawberries, 2 Tbsp balsamic vinegar, and 2 Tbsp local honey in a bowl. Mix well and allow to set 1 hour. Delish!
Another easy, delicious super sauce for a quick nourishing dinner? Cause who's got time for labor-intensive meal prep with all the riding, running, skiing, and climbing we've got to do? Not me! This week, keep eating the goods so you can train, race, live, and feel you're best. Yum and done!
Fuel Your Adventure.  Nourish Your Body.
Want great nutrition every day? YOU CAN have your very own Apex Nutrition Plan. It's everything you need to meet your strength to weight ratio goals, everyday nutrition for overall wellness, health, and recovery, training nutrition for optimal performance, concise advice for supplements, and easy strategies to stay hydrated. Choose a Instant Download Plan & customize it yourself (starting @ $40), or choose a Custom Plan and Kelli will create your entire nutrition packet and meal plan just for you (starting @ $135). And, as a Fuel Right Blog reader, you can claim a 15% discount on Instant Download Plans by using coupon code: fuelrightblog . You'll be on your way to meeting your goals in no time.