Home Page › Uncategorized › Tuesday's Healthy Fuel Recipe: My KIND of Bars
Ever need an on-the-go quick snack or mini-meal?  Something you can feel good about eating?  Me too.  While I believe many bars and meal replacements to be little more than expensive and glorified candy bars, there are two I routinely recommend to clients for daily nutrition, and eat myself when I need to have a snack that packs.  For whole food-type-nutrition, I recommend the LARA bar and the KIND bar.  But, both of these bars come at a price.  $1.20 -$1.80 depending on where you shop.  Ouch.
But never fear, I can help you make your own with great results.  You don't even have to open your oven door for either recipe (one from me and one from a favorite blog – Loving the Bike).  Follow the Loving the Bike recipe for a LARA-type bar.  And, here's my KIND of bar:
Recipe of the week – My KIND of Bar:
Ingredients:
1 Cup raw chopped nuts, any type
¼ Cup ground flaxseeds (either buy ground or grind at home)
4Tbsp maple syrup, agave, honey, of a combo of these
1 teaspoon sea salt
¾ cup raw unsweetened shredded coconut
½ cup dried fruit (non-sweetened)
½ ounce dark chocolate (really dark, 70% or more cocoa)
Instructions:
Place coconut oil in medium saucepan – melt on medium heat.  Once melted, add nuts to "roast" them, stirring watching them carefully as they can burn quickly.  Once they have a golden-brown color and nutty aroma, add all other ingredients except optional dark chocolate.  Stir well until you have a gooey warmed mixture.  Press into bread pan or 8×8 baking pan, depending on how thick you want your bars.  Place in the refrigerator to cool slightly.  Take out after 30 minutes or so.  If you'd like to add dark chocolate, melt it on stovetop or microwave.  Then, drizzle it over bars.  Cut into 8 bars and refrigerate individually for a few hours.  Wrap individually, store in refrigerator or pantry, and enjoy!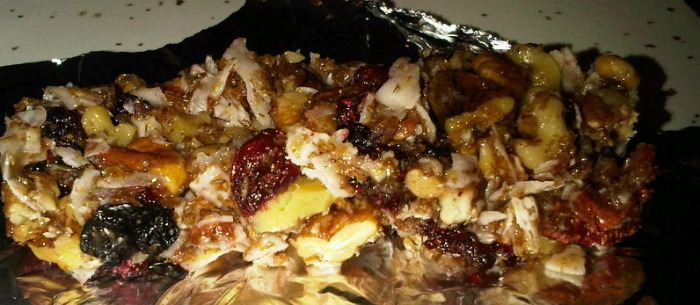 Give your body what it needs for great energy and health every day and during training with the right Foods, Drinks and Supplements.  If you would like my help with it, I offer comprehensive plans as Instant Downloads and as Custom Clients starting at just $20.  And, as a FuelRightBlog reader, get a further discount with coupon code:  password-frblog  username-reader.  I'd love to work with you!
Fuel Your Adventure. Nourish Your Body.